Today I come back to the blog to show you an anti-vibration dumps designed by me. So I come back writing about two of my passions, padel and 3D printing.
Why do you have designed these anti-vibration dumps?
One of the most suffered injuries when you play a racjet sport is the epicondylitis, also known as tennis elbow. This injury is related with inflamation of the tendons that are inserted on a part of the elbow. And injury become worst with the vibrations of the racket when hitting the ball.
To solve this issue there are some solutions:
Play with rackets made with soft rubber (soft-eva o foam), but you lose some power when you hit the ball.
Decrease the vibrations that come to the arm using anti-vibration dumps.
There are some solutions on the market, like K-Tech anti-vibration dumps, but I want to design my own one to test them.
How you design them?
I have used Fusion 360 software from Autodesk, because I can design them in a very easy way.
To print the dumps I have used flexible filament from FFFWorld , because when the dumps are in contact with holes of the racket they will aborb some vibrations.
I hope that the dumps with the built-in anti-vibration systems that are on the racket, Bullpadel Vertex CTR, are enough to get better of the elbow pain.
I have designed them as two parts that are joined, and you can customized any part of the dumpers, for example, I put my initials on them, on the part that you can see on the racket, but they can be customized in a lot of ways, for example, logos, etc.
Do you have any photo of them?
You can see a couple of photos of the final result with the dumps mounted on the racket.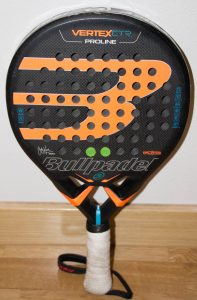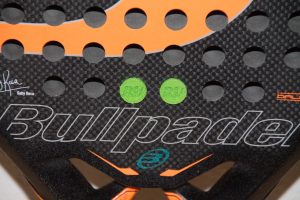 The weight of the dumps is 7-8 grams per couple of complete dumps, so the weight increase is like when you put one overgrip on the handle.