After checking that stock electronics on Anet is not good enough for me, I have used a GT2560 motherbard to substitute the stock mainboard.
Why you want to change electronics?
As you can see on the image below, Anet board only comes with one potenciometer to control stepper drivers.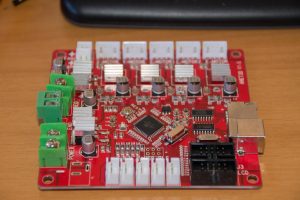 This causes, for example, that you cannot set the intensity for the extruder motor, and this is the main cause of loosing steps.
In addition to that, Anet board has not any protection of the electronics, while GT 2560 has some little mosfet for protecting the extruders and hot bed connectors. This bring more safety when you are printing.
Another good thing, is that GET 2560 has two small fusses to protect the board for overtension.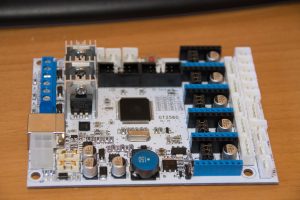 What do you need to commit the change?
Drivers
GT2560 have not intergrated drivers, so you need drivers for stepper motors.
I have mounted DRV8825 drivers, and the improvement is awesome. The printer almost has not any mechanical noise, you can only hear the sound of the fans.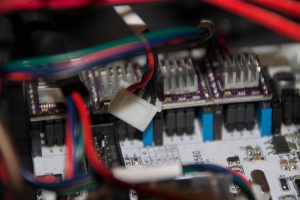 Screen
Another change that I must commit was the screen, because Anet board comes with SD card reader embbeded  and not on the screen.
Due to that I bought this screen at amazon. This screen has embbeded SD card reader, so I can print from SD card again.
Be carefuel when mounting the cables from the board to the screen, because the connectors are twisted 180 degrees.
You must cut a little the locks on the connector that comes to the screen in order to mount them properly.
Cable connectors
The connectors on the boards are different, 2 pins on GT2560 and 3 pins on Anet one, so I bought these bridge connectors for Arduino.
I bought this cable too, in order to use it to connect the power supply to the board.
And what about the firmware?
I am going to write another post to explain how to put the latest version of Marlin on your printer.