Recently I have read a lot about this feature of Marlin, Linear Advance, so I am going to show you what I have learnt some days ago.
What linear advance is?
Is a very interesting feature of Marlin, that maintain constant the pressure inside the nozzle.
Ok, and what is the meaning of that?
As the pressure is constant, the change of speed during the printing does not affect to the quality of it, so the critical areas are pinted better. You will see a huge difference, specially on the corners.
Another good thing, is that you have well configured this feature, the jerk is not important if you use Marlin 1.1.x, and you can print faster withour loosing quality on your prints.
The last advantage is that the dimensional accuracy is increased a lot.
How can I configure it?
Activate this feature is as easy as uncomment the line that you can see below on configuration_adv.h file:

Now, with the feature become active, we are going to see how to setup K parameter, that is the parameter that manages the pressure inside the nozzle.
On the Marlin web, there is a tool to generate a configuration pattern.
You must fill in the parameters required and is very important to set on the pattern section set Lin Advance Version to 1.0 if you use Marlin 1.1.x, or 1.5 if you use Marlin 2.0.
Anothe important is the Ending Value for K, if you use Bowden, put at least 200 as value and increase K-Stepping Value to 10, because Bowden values are higher than with direct extruder.
Here you can find an screenshot with the values that I have used.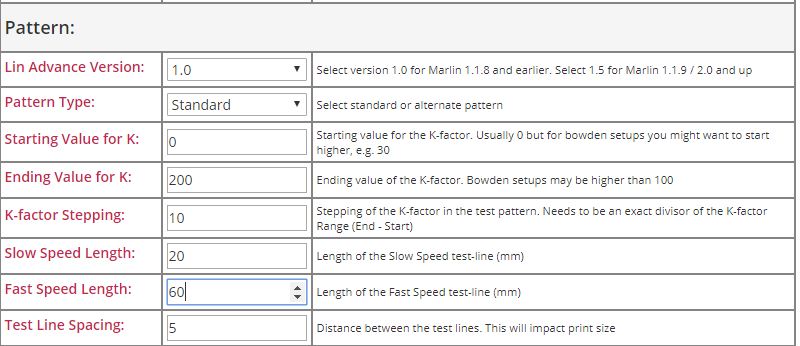 Once the form is filled, click on "Generate G-Code" button and you will see the generated G-Code on the right side on the screen, then download the G-Code and print it.
When you print the G-Code you will get something like that: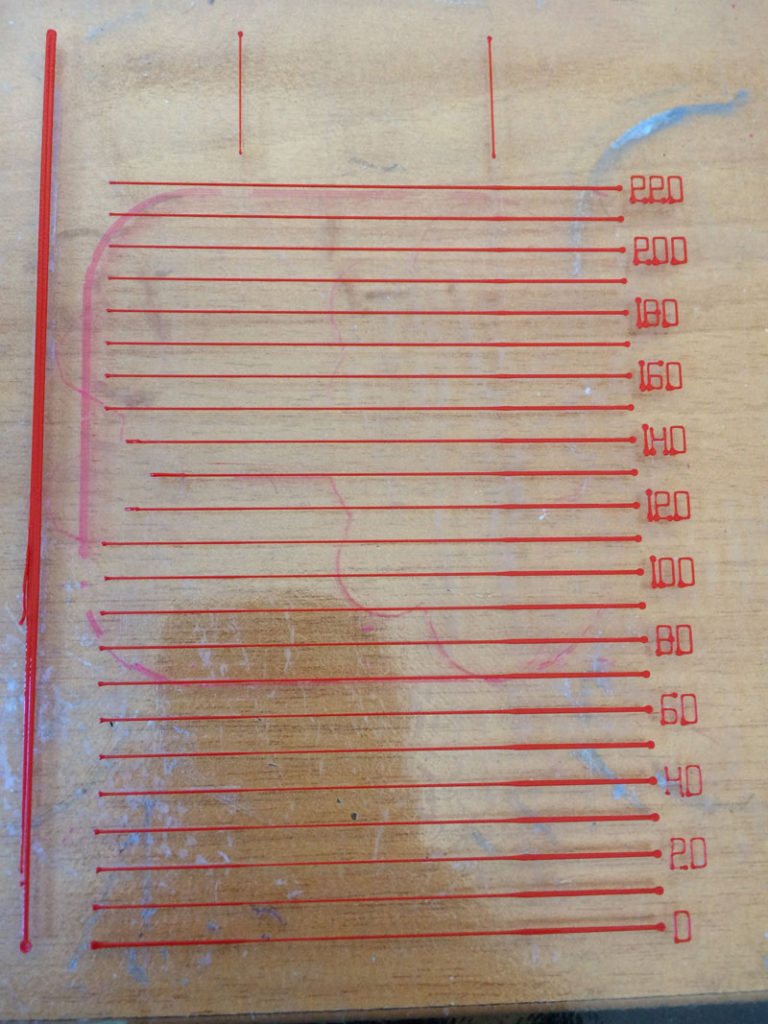 On the righjt side you will see K value, and you must choose the most constant line. I choose a K value of 140.
And later?
As the K value change with the material that are using to print os better to set the K value with a G-Code.
In order to do that, I add to the initial script the G-Code to setup K value.

After that, you must print some test pattern that I have found on this blog, you can find the stl here.
After perform some test, I set K of 140 for PLA.
What do you feel?
He feel the following things:
The quality of printed things has increased a lot
With linear advance jerk value does noot affect the printing quality, so you can print faster without loosing quality
Ghosting is over