Fidget spinner are trendy on this spring-summer time for the kids.
What is a fidget spinner?
Is a very simple toy, that consists on a support in which you put a ball bearing in order to allow the toy spinning over itself, you must put some weight on it to allow the spinning movement takes longer.
How did you made it?
Last May I was with some of the kids of my family, and I promised them that I make one for everyone, so I let them to choose the model they want, and they choose this one.
The most difficult task were over, so I just needed to get the materials.
Ball Bearings
The most important part of the toy is the ball bearing, because it allows to spin the toy.
At the first moment, I went to an skate shop (Se Rueda), and they sold me these bearings: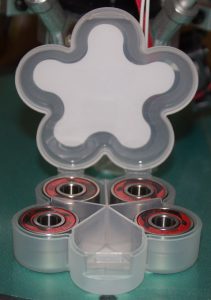 These are ABEC 7 bearings, and I believed that will be enough, but the spinning movement was not as smoother as I expect.
So I looked for ceramic bearing on AliExpress and I found these: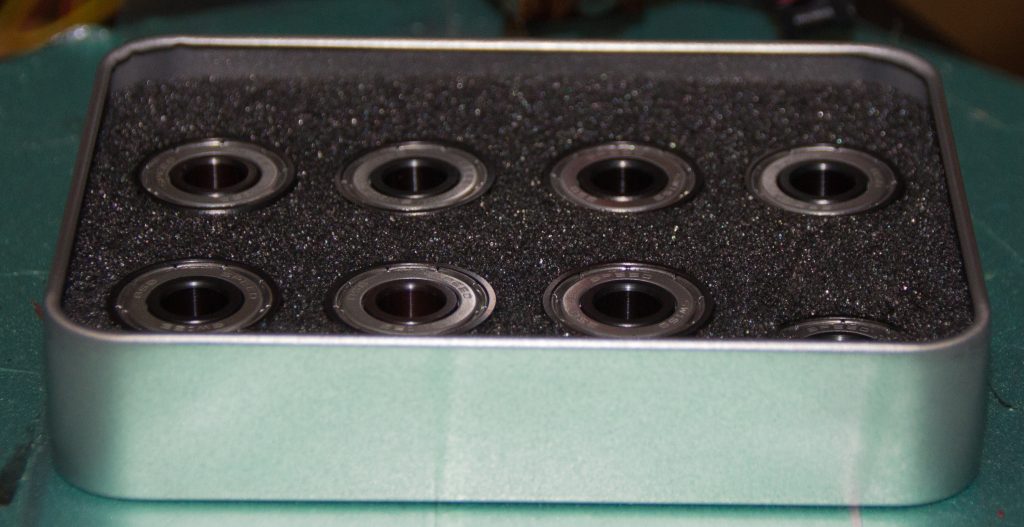 After putting some oil on them, the spinning movement was perfect.
Weights
In order to add weight to the toy I designed some parts with Autodesk 123D software.
The pieces are very simple, only three disc with the size of the bearing with a letter on the top of them.
Printing of fidget spinner
To print  the toys I used two kind of filaments:
Black PLA BQ, with an infill of 65 % and layer height of 0,2mm. I increased the infill amount in order to add more weight to the toy. With this filament I made the body of the toy.
PLA Glow in the dark of Prima Select, with an infill of 100% and layer height of 0,2mm. This filament glows in the dark, so the appeareance is very special.
How about the results?
You can see a couple of photos with the result. I hope you like it.