The content of today is a tutorial that I made about VoiceMeeter Potato. Is a huge change on the blog, but I want to give a new approach to the blog.
What can I do with Voicemeeter?
This program is an audio mixer for Windows that is very powerful and it has three versions:
Voicemeeter: The basic version, it has 2 hardware inputs and 1 virtual, it also has 2 outs, 1 physical and one virtual. Is free for end user but you can make a donation to the developer if you want.
Voicemeeter Banana: The intermediate version, it has 2 hardware inputs and 2 virtual, it also has 5 outs, 3 physical and 2 virtual. It also have some tools to improve of modify your voice and an embedded recorder. Like the basic version it is free for end users but you can make a donation to the developer if you want.
Voicemeeter Potato: The most complete version, it has 5 physical inputs and 3 virtual inputs, it also has 8 outs, 5 physical and 3 virtual. In addition to the tools to modify your voice and the recorder, it also has some special effects tools. This version is free too, but after 30 days of use the software ask you for a valid license.
There is another piece of software that are the virtual cables, that allow you to connect the output of a program, like Spotify to a hardware input in order to have more control about the program.
How the program look like?
You can see below an screenshot of my current config of the program on my computer: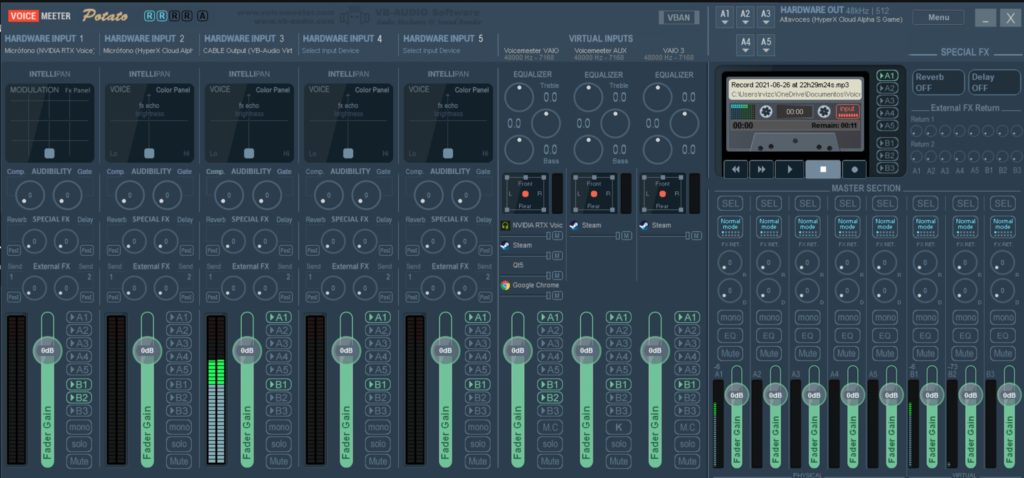 Currently I have a couple of mics on the hardware inputs and another physical pinput dedicated to Spotify via a virtual cable, I have set one hardware output to my headphones and one virtual to OBS in order to make the tutorials.
Where is the tutorial?
You can find the tutorial here, but is only in spanish 😛
If you want any other tutorial, please tell me what do you want and I try to make it as best as possible.